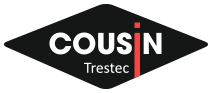 Zoom
Legal Notices
Website publisher
COUSIN TRESTEC
8, rue de l'Abbé Bonpain
59117 Wervicq-Sud
FRANCE
Registrated under the SIRET number FR 73 399 100 668
The content of all parts of this website belongs to COUSIN Trestec Company and is protected by copyright under literary and artistic property. This includes copyright forin all of the text, descriptions and images. It also includes trade marks forin our name and logos. Reproduction of part or all of the contents in any form is prohibited unless for personal use.
You may print pages of this site for non-commercial purposes only. Any reproduction for commercial or advertising purposes is prohibited without the prior written consent of the Communication's Manager.
Requests to this effect must be sent via e-mail to communication@cousin-trestec.com.
Note: We are not responsible for the monitoring of the external links on our website.
Data Protection
In accordance with the provisions of the French Data Protection Law of 6 January 1978, the automated processing of personal data received from this website is subject to a pending declaration to the CNIL (Commission Nationale Informatique et Libertés).
Users' personal information will be stored by COUSIN Trestec Company for internal purposes only. In no event shall COUSIN Trestec Company disclose, sell or rent your personal data to any third party for advertising or promotional purposes.
In accordance with Article 27 of the French Data Protection Law of 6 January 1978, users are however informed that information provided via any forms that may be found on the site, including those allowing users to register their details in order to receive documentation or download brochures, or even subscribe to services offered by the site, may be used by COUSIN Trestec Company.
Users have a right of access and correction of this data. Requests to this effect can be sent by post to COUSIN Trestec Company or via e-mail to communication@cousin-trestec.com.
We may disclose your personal data where necessary to comply with applicable law or an order of a governmental or law enforcement body.
Copyright
Copyright to all content provided on this website belongs to COUSIN Trestec Company or third party content owner.
Subject to terms and conditions, no content of this website may be copied, reproduced, distributed, republished, downloaded, displayed, posted on line or transmitted in any form and by any means whatsoever, including as soft or hard copy, photocopy, recording or otherwise, without the prior written authorisation of COUSIN Trestec Company or third party content owner.
Unauthorised use of content from this website may violate copyright laws, confidentiality and advertising laws and the laws and regulations governing communications as well as other national and local laws.
Specific risks related to computer networks
Users declare knowing and accepting the specifics of computer and telecommunications networks.
COUSIN Trestec Company does not assume responsibility for services accessible on the Internet and in particular for any damages, whether directly or indirectly, whatever the causes, origins, nature or consequences, caused by anyone's access to the website, or inability to access, use of the website and / or credit given to any information provided directly or indirectly from the latter.
External websites to COUSIN Trestec Company containing a hyperlink to this site are not under the control thereof, and thus Cousin Trestec Company declines any responsibility for their content. These links do not constitute in any way an endorsement or partnership between COUSIN Trestec Company and these sites, as these are subject to their own terms and conditions and privacy policies.
Graphics, design and development: www.skwid-creation.fr
Responsibilities
Hyperlinks on this site, directing users to other websites are notdo not engage the responsibility of the editor.
Users, on this site, must make use of personal data in compliance with current regulations and recommendations of the National Commission of Information and Freedoms (CNIL).
In accordance with French law (art. 27 of Data Protection Law No. 78.17 of 6 January 1978), you have a right of opposition (art. 26) access (art. 34-38), correction (art. 36) and cancellation of your own data. Requests to this effect must be made to Cousin Trestec Company Communications' Department by telephone on +33 (0)3 20 14 40 37 or via e-mail to communication@cousin-trestec.com or by using the contact form at your disposal here.
No information collected on this site will be disclosed to any third party.
COUSIN Trestec Company is committed to protecting and respecting your privacy.
Your personal data will come under a total confidentiality.